Federal Sports Betting Laws For USA Players
It is no secret that many U.S. residents enjoy placing bets on their favorite teams and players over a wide range of sports and events, but sometimes the legality is unclear. While there are many federal laws in place which prevent the business of gambling for profit, there are no laws which prevent the casual and recreational gambler from the simple act of placing a bet. This page stands for those who wish to understand federal laws and educate themselves on what they can and cannot do when it comes to placing a bet on U.S. soil at online sportsbooks for USA players.
Do Federal Laws Target Bettors?
The federal legislations which have been enacted over the years focus all of their preventative measures on gambling upon those engaged in the business of gambling or facilitating bets for profit. There are no written passages which outlaw the actual act of making a bet. This means that under federal regulations, a citizen is more than within legal bounds when making a casual wager among friends and family on who will win the Super Bowl or take the World Series. There is no intention by the U.S. government to police such activity nor is it considered a criminal offense. The casual bettor is safe and free to place wagers as they wish.
There are targets of these laws however as the business of gambling or facilitating bets for profit are strictly forbidden and enforced. The federal regulations and restrictions are meant to attack organized crime, corruption and racketeering while protecting innocent citizens from shady underground gambling operations which actively cheat and steal for dubious and more sinister activities. So long as a resident is not engaged in such activities or trying to operate their own gambling business, they will be entirely left alone to continue living their lives undisturbed.
U.S. Federal Sports Betting Laws
Federal Wire Act of 1961
The Federal Wire Act is the quintessential and most encompassing of all of the gambling legislation which has been enacted to date. Passed in 1961, it forbids the business of gambling and processing of gambling information through any wire transmissions or interstate transactions. This includes the internet as no one is allowed to operate an online gambling site for profit anywhere on U.S. soil.
This Act was passed specifically to combat organized crime and bring an end the funding of such nefarious schemes. During a time when the Mafia and other foreign entities were beginning to grow during the peak of the Cold War, our nation's leaders found that gambling was indeed a means for such organizations to gain funding for their activities. The Federal Wire Act of 1961 quickly aided law enforcement in bringing down such criminals and has muffled illicit behavior ever since.
While these laws cover the entirety of the United States, they do not cover anything outside of U.S. jurisdiction or how we as citizens may interact with foreign services. With the advent of the internet, it is obvious that there are many online sportsbooks, casinos and poker rooms which are scattered across the world, well outside of any state U.S. regulations, that are easily accessible to any U.S. resident from the comfort of their own homes. These sites are indeed exempt from the Federal Wire Act and citizens of the United States are beginning to realize that placing a wager on any sporting event they wish is perfectly legal provided that the bet is made with an online sportsbook not based on U.S. territory.
Professional and Amateur Sports Protection Act (PASPA)
Passed in 1992 by the urging of then NBA commissioner David Stern, the Professional and Amateur Sports Protection Act was created and enacted after Congress found that sports betting was a potentially corrupt and detriment to American society. Fears of the integrity of sports were intensely scrutinized as worries and concerns of players betting on or against themselves flooded the minds of lawmakers and sports fans alike. The law outright banned all betting on sports in an official capacity as it disallows any state from creating its own licensed sports betting facilities. Nevada, Delaware, Montana and Oregon were all exempt from the Act however only Nevada offers full-fledged sports betting within their casinos and remains the only legal physical location to make a number of sports bets.
This law aims to keep corruption out of all sporting events in the United States and maintains a strict moral compass for the rest of the states to follow with very few exceptions. While many states and individuals oppose PASPA and seek to have it either altered or repealed, the law stands to this day intending to protect the integrity of any sport and prevent any state or company from engaging in the business of sports betting for profit.
As is the case with the Federal Wire Act above, this law only removes the venues of where one might place a bet and does nothing to prevent the average citizen from making said wager. Again, the internet comes to the rescue of those in the United States who wish to make a wager as they are able to visit any online sportsbook which is located outside of U.S. jurisdiction and the rules of PASPA.
Unlawful Internet Gambling Enforcement Act (UIGEA)
The Unlawful Internet Gambling Enforcement Act (UIGEA) may have an intimidating name for those who are wishing to place a bet over the internet but the law is completely focused on the business of gambling as with the aforementioned laws in the previous sections. The UIGEA also happens to be primarily focused upon the banking transactions of gambling over the internet as it prohibits any sort of credit or debit payments by an organization to facilitate bets in the United States. While the Act excludes horse racing and fantasy sports, it has largely ended any chances of U.S. based online sportsbooks operating within the country. What's more is that this Act was tacked into the SAFE Port Act rather than being passed as its own legislation, surprising many with its sneaky existence being pumped through the pipes of congress.
The UIGEA specifically targets those operating gambling businesses or facilitating bets for profit over the internet, however once again, does nothing to the simple act of placing a bet. While the UIGEA makes it difficult to provide banking transactions with an online sportsbook, it does not entirely wipe the option away as many web-sites lie outside of the UIGEA's reach.
There are a number of trusted online sportsbooks which are located outside of the United States in which any U.S. citizen is able to visit and make transactions with. While a user may have no problem with using their credit or debit cards to deposit money into a sports betting account which is located elsewhere, receiving winnings back from the online betting service may require a different method of payment such as a check by mail, a bank wire transfer or a form of eWallet. Overall, citizens are able to bet with real money over the internet with a legally based site outside of the United States and ensure themselves of receiving their payouts when the time comes.
Online Sportsbooks which are in Compliance with U.S. Laws?
As one can imagine with the vastness of the internet, there are as many online betting sites as there are stars in the Milky Way. So long as they are located outside of both state and federal jurisdictions, they are operating well within the realm of law and U.S. bettors may feel free to visit them. As is the case with any other business, some are better than others and bettors should look for online sportsbooks which have been operating for a decent amount of time while garnering positive reviews of their services. Luckily for readers of this page, we have scoured the internet searching for our own favorite sports betting destinations and have come up with a number of trusted sites suitable for American bettors like ourselves. They are safe, secure, discreet and most importantly, legal to use.
Best Sportsbooks for USA Players
1
Live In Game Betting From Your Phone
Best Sportsbook Payouts:
Bitcoin
Payout Time:
2-6 Hours
US Residents Accepted?
YES - EXCEPT: DE, MD, NJ, NV
One of the most impressive online sportsbooks in the industry is the one found at Bovada.lv. Based nearby in neighboring Canada, Bovada initially began as the American company 'Bodog' and only relocated after changes in interpretations of the above mentioned laws forced them to take their operation out of the country. Despite their foreign location, they still stand as the premier online betting network for American citizens all across the country.
Featuring bets on every major American sport, league, team and player, users will find that they can bet on anything from team or player props to exciting futures such as who will win next year's World Series. With constantly updated lines and odds, notable companies such as CBS Sports and ESPN routinely site their steady information even over Vegas bookmakers. New users will find plenty of incentives and rewards for using their service as well. Upon becoming a member and making an initial deposit into an online sportsbook account, new members will find a 50% increase of their funds worth up to $250 of free money. Simply signing up at Bovada is a sure bet in itself.
50% welcome bonus up to $500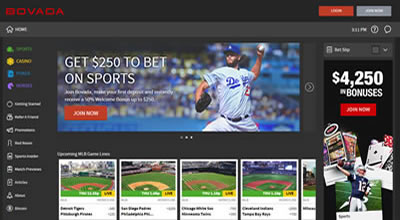 Top Sportsbooks for USA Players