Is Sports Betting Legal For USA Players?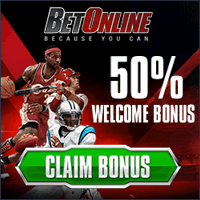 It doesn't take great power of observation to see that sports in the United States are incredibly popular. It therefore follows that one of the most popular hobbies in the country should be betting on sports, and that assessment would be right on were it not but for a couple key issues. Namely, confusion about the laws that govern the country in relation to sports betting from sea to shining sea. The United States has a set of federal laws as well as fifty individual sets of state laws. A combination of confusing legislation and the availability of online sports betting to USA customers makes clarifying this situation even more difficult.
While we here at SportsBooksForUSAPlayers.com obviously understand that the act of sports betting isn't for everyone, it breaks our collective hearts to see someone sitting out solely because they believe that placing so much as one bet could land them in jail. The purpose of this website is to try and help US residents find means to bet on sports free from the risk of jail time, and most of all, to aid in clearing up the fog related to the laws that govern sports betting. Once and for all, let's try to come up with a satisfactory answer to the question "Is sports betting legal in the USA?"
Is Sports Betting Legal In The USA?
Here's the easiest way to explain the legal status of online sports betting in the USA. While there are several federal laws that prohibit and punish the act of sports betting in the country, these same laws provide exemptions and do not prosecute individuals who merely want to place a bet. As confusing as that may seem, if you were to place a bet on the lawn of the white house, you could walk away free as a bird while the party who took that bet from you would find themselves in proverbial hot water.
So, while sports betting cannot be legally facilitated in most of the USA, the fact is that you, the individual sports bettor, won't get in any trouble, at least not in accordance with federal policy on the subject.
Of course, there are still several state laws to deal with, but fortunately, most use federal law as a template for enforcing their own laws. Unless you live in Nevada, it's not possible to place bets on sports in land based facilities, (unless you count a measly betting-related state lottery in Delaware, which we certainly don't) residents are free to wager on sports online just so long as the sportsbooks are located offshore, outside of US jurisdiction. Unfortunately, a few states even have laws against using the internet to bet. While these states are in the minority, it pays to be educated and we cannot stress enough the importance of doing your research to ensure that your hobbies are all well within legal territories. Still, existing laws against online sports betting are, for the most part, unenforced, at least at the level of an individual sports gambler placing sports bets on the phone or on the Internet within American borders.
So, let's put all of this together. We know that at best, the act of placing a bet is legal, and that at worst, and laws against betting online are for the most art unenforced. We also know that offshore online sportsbooks will serve US residents, and that they are not within the jurisdiction of state or federal laws. So what do we have now? A hobby that is legal, and most of all, safe from any risk of prosecution. Enjoy your sportsbooks, America!
U.S. Online Sports Betting Laws
Below is a short but all-encompassing chunk of data about the five laws and types of laws that apply to USA sports betting. We look at each type of law related to placing sports bets in America and explain them as best we can in plain English.
PAPSA - The Professional and Amateur Sports Protection Act, also known as the "Bradley Act," was passed in 1992 as an attempt to better define the legal status of sports betting throughout the United States. In other words, the US government tried to make sports betting more explicitly illegal than the Wire Act allowed for. The passage of PAPSA effectively made sports betting nationwide illegal, excluding existing betting options in Oregon, Delaware, Montana, and Nevada. However, PAPSA doesn't have teeth, a phrase lawyers use to describe a law that can't be used to prosecute. Just like the Wire Act, PAPSA doesn't mean that the government is going to arrest you or fine you for placing sports bets. PAPSA gives the federal government the right to go after illegal sports betting sites and providers. To date, no one has been arrested under the PAPSA or Wire Act laws for placing a sports bet.
UIGEA - The Unlawful Internet Gambling Enforcement Act doesn't specifically make sports betting illegal. The UIGEA was intended to prevent gambling of all kinds by Americans. How did it do this? By limiting the way banks and other financial institutions can do business with what the law calls "known gambling sites." The UIGEA has nothing to do directly with the legality of sports betting in America.
Wire Act - The 1961 Federal Wire Act was designed to prevent organized crime participating in sports betting and influencing the outcome of games, a serious problem in the mid-20th century when the law was passed. The Wire Act is the law that most explicitly makes online sports betting by Americans illegal, since it says plainly that any bet on a sporting event made over a "wire" communication is illegal. However, sports bettors shouldn't fear the Wire Act, since it is not intended to be used to arrest or fine an individual sports bettor, rather the government is going after illegal online sports betting site hosts and providers.
State Sports Betting Laws - Eight American states have laws outlawing any and all online bets. The other forty-two either allow online betting under certain circumstances (like in Nevada, where gambling online is limited to state-licensed sites only) or haven't addressed the issue yet directly at all. The best way to determine if you live in a state with a law making sports betting illegal is to look up your state's penal code on your own or talk to a lawyer in your state familiar with gaming law.
U.S. Sports Betting Age - Where sports betting is legal in the USA, the betting age is either 18 or 21. There is not yet a national standard for sports betting's legal age, probably since most types of sports betting are illegal around the country. Depending on where you do your sports wagering, you have to be either 18 or 21 to place your bets. Call the sports book ahead of time to find out their specific minimum age for bets, as there's no real rhyme or reason to why some places require you to be 18 and some require you to be 21.
Sportsbooks That Are Legal For US Players
We've combed through the piles and piles of online sportsbook open to US bets and found the two legal online sportsbooks we think are the best. These are sites we use every day from within the United States. They are legal, using loopholes around the UIGEA and Wire Act / PAPSA laws, and we trust these sites with our own money and our own bets on a daily basis.
1
$250 First Deposit Bonus w/ 50% Match
Best Sportsbook Payouts:
Bitcoin
Payout Time:
2-6 Hours
US Residents Accepted?
YES - EXCEPT: DE, MD, NJ, NV
The legal betting age for sports at Bovada is 18, but US bettors need to take note that Bovada doesn't accept sports bets from every state. As of this writing, bettors from Maryland, Washington, Utah, or Louisiana. Bovada doesn't have the most lucrative bonus program in the industry, thanks to a smaller audience, but first-time deposits can earn up to $250 at a match rate of 50%, with occasional reload bonuses offered for future deposits. US sports bettors can make deposits and receive withdrawals from Bovada using their VISA and MasterCard (in some cases), Bitcoin, a wire transfer service called Rapid Transfer, and the use of a mailed check or money order if all else fails.
50% welcome bonus up to $500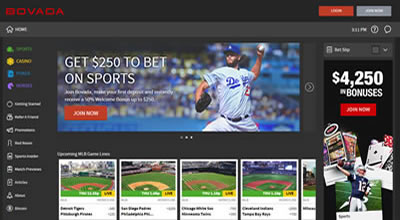 2
Lifetime Bonuses Worth $900 On Every Deposit
Best Payouts for USA Players:
Bitcoin
Payout Time:
2-6 Hours
USA Players Accepted?
YES
The legal betting age for sports at BetOnline is 21, designed to comply with all the countries that BetOnline is open to, more than 160 as of last count. This list includes the United States, and unlike Bovada, BetOnline accept US players from all American state. We love BetOnline because they're open to US bets, and because they have one of the biggest first deposit bonuses in the industry, an offer of a 25% match up to $900 on each and every deposit they make. As for deposit and withdrawal methods available to American sports nbettors, BetOnline allows deposits via credit card (some American will be able to use their VISA, MasterCard, or American Express, and some won't), a variety of eWallets open to US customers, and traditional deposits made by check or money order through the mail or a courier service.
100% with Bonus Code NEWBOL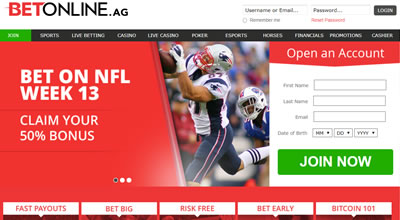 BETONLINE PAYMENT METHODS
Top Sportsbooks for USA Players
Disclaimer
None of the info on this site constitutes legal advice. Yes, we are avid bettors with a ton of experience in the online gambling industry, but you should always check with a legal professional if you're unsure about the legality of your sports bets.